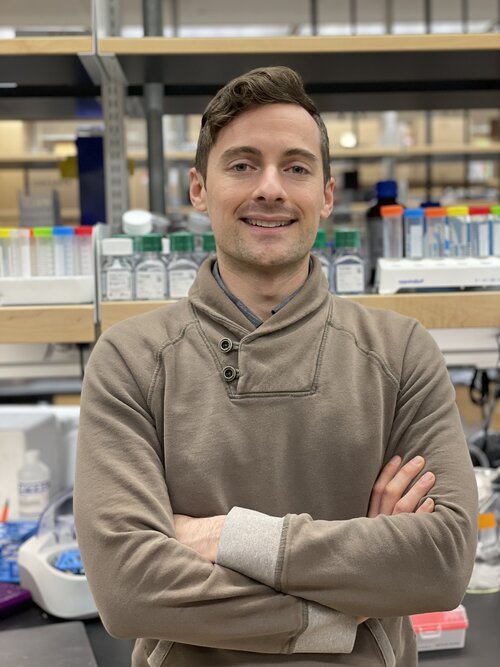 Assistant Professor of Stem Cell and Regenerative Biology
Flynn Lab
1 Blackfan Circle
Karp 6th Floor
Boston MA 02115
Email:raflynn@fas.harvard.edu
Website:
Flynn Lab (rafrna.com)
Lab Size: Between 5-10

Summary
The Flynn lab develops chemical tools to study the interface of RNA biology and glycobiology in the context of cell state transitions and cell-cell communication.

Publications
1. Flynn RA*,#, Pedram K, Malaker SA, Batista PJ, Smith BAH, Johnson AG, George BM, Majzoub K, Villalta PW, Carette JE, Bertozzi CR#. Small RNAs are modified with N-glycans and displayed on the surface of living cells. Cell. 2021 Jun PMID: 34004145
2. Flynn RA#,*, Belk JA*, Qi Y, Yasumoto Y, Wei J, Alfajaro MM, Shi Q, Mumbach MR, Limaye A, DeWeirdt PC, Schmitz CO, Parker KR, Woo E, Chang HY, Horvath TL, Carette JE, Bertozzi CR, Wilen CB#, Satpathy AT#. Discovery and functional interrogation of SARS-CoV-2 RNA-host protein interactions. Cell. 2021 Apr PMID: 33743211
3. Shao Z*, Flynn RA*, Crowe JL*, Zhu Y*, Liang J, Jiang W, Aryan F, Aoude P, Bertozzi CR, Estes VM, Lee BJ, Bhagat G, Zha S, Calo E. DNA-PKcs has KU dependent function in ribosomal RNA processing and hematopoiesis. Nature. 2020 March. PMID: 32103174.
4. Flynn RA, Do BT, Rubin AJ, Calo E, Lee B, Kuchelmeister H, Rale M, Chu C, Kool ET, Wysocka J, Khavari PA, Chang HY. 7SK-BAF axis controls pervasive transcription at enhancers. Nature Structural and Molecular Biology. 2016 Feb 15. doi: 10.1038/nsmb.3176. PMID: 26878240.
5. Spitale RC*, Flynn RA*, Zhang QC*, Crisalli P, Lee B, Jung JW, Kuchelmeister HY, Batista PJ, Torre EA, Kool ET, Chang HY. Structural imprints in vivo decode RNA regulatory mechanisms. Nature. 2015 Mar 26;519(7544):486-90. doi: 10.1038/nature14263. Epub 2015 Mar 18. PMID: 25799993.