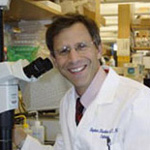 Professor of Biological Chemistry and Molecular Pharmacology
Research in the Blacklow laboratory is centered around the molecular logic of normal and pathogenic Notch signaling. Activating mutations in human Notch1 are found in more than half of human T-cell leukemias, and a key goal of current research is therefore to develop new classes of selective Notch inhibitors.
Dana Farber Cancer Institute
Smith Building 1022B
1 Jimmy Fund Way
Boston, MA  02115
Tel: 617-525-4415
Email: sblacklow@rics.bwh.harvard.edu
Website:
http://pathology.bwh.harvard.edu/
Lab Size: Between 10 and 15

Summary
Dr. Stephen C. Blacklow's laboratory is dedicated to research that seeks to answer important, fundamental questions about the structure and function of cell surface receptor molecules at the biochemical level. Among the receptors he studies is the multi-domain protein receptor for low-density lipoprotein—better known as bad cholesterol—and a family of proteins called Notch receptors that communicate signals between neighboring cells. Mutations in these and other cell surface receptors can result in a wide variety of disorders, including heart disease and cancer. Understanding how these receptor molecules function in normal and abnormal states is fundamental to understanding the patho- genesis of these diseases, and thereby provides new opportunities for the development of targeted therapies.
Publications
Tiyanont, K, Wales, TE, Aste-Amezaga, M, Aster, JC, Engen, JR, and Blacklow, SC. Evidence for Increased Exposure of the Notch1 Metalloprotease Cleavage Site upon Conversion to an Activated Conformation. Structure 2011;19(4):546-54. PMCID: PMC3075624
Arnett, KA, Hass, M, McArthur, DG, Ilagan, MXG, Aster, JC, Kopan, R, and Blacklow SC.  Structural and Mechanistic Insights into Cooperative Assembly of Dimeric Notch Transcription Complexes. Nature Structural and Molecular Biology 2010;17(11):1312-7 (Cover article). PMCID: PMC3024583
Gordon, WR, Vardar-Ulu, D, Sanchez-Irizarry, C, Histen, G, Aster, JC, and Blacklow, SC. Structural Basis for Autoinhibition of Notch. Nat Struct and Mol Biol 2007; 14(4):295-300.
Nam Y, Sliz P, Song L, Aster JC, Blacklow SC. Structural basis for cooperativity in recruitment of MAML co-activators to Notch transcription complexes. Cell. 2006;124:973-983.
Fisher C, Beglova N, Blacklow SC. A general mode for recognition of ligands by lipoprotein receptors from the structure of an LDLR-RAP complex. Molecular Cell.  2006;22:277-283