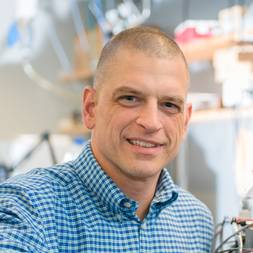 Associate Professor of Pathology
Dana-Farber Cancer Institute
360 Longwood Avenue, LC-2208
Boston MA 02115
Tel: 617-632-3150
Email: jarrod_marto@dfci.harvard.edu
Website:
https://martolab.dana-farber.org/
Lab Size: Between 5-10

Summary
Despite tremendous progress in the development of technologies that enable high-throughput molecular measurement, it remains difficult to assess the proteome-wide activity of small molecule probes, hindering the pace of drug discovery. As a result, a significant fraction of the 'druggable genome' remains unexplored. We work at the intersection of biochemistry, chemistry, analytical science, and informatics, building novel chemoproteomic tools to characterize the activity of chemical compounds and clinical drugs. These quantitative data establish robust, proteome-wide selectivity and dose-response profiles of small molecule inhibitors designed against established oncogenes as well as promising new therapeutic target-classes.
In addition to target-discovery, we use chemical inhibitors in functional proteomic studies to systematically interrogate disease pathways with respect to enzyme-substrate relationships, downstream effectors, or other signaling readouts that may serve as biomarkers of therapeutic efficacy. More broadly these data can fill mechanistic gaps in our understanding of genotype-phenotype relationships or reveal how pathway disruption, via pharmacologic, genomic, or other exogenous insult, may manifest en masse as a phenotypic or disease signature. In parallel we leverage our deep expertise in mass spectrometry to design new reporter probes for use in high-throughput assays designed to measure the stoichiometry of ligand-target engagement in vivo; our long-term goal in this area is to create reliable and quantitative assays suitable for point-of-use settings or clinical trials.

Publications
Browne CM, Jiang B, Ficarro SB, Doctor ZM, Johnson JL, Card JD, Sivakumaren SC, Alexander WM, Yaron TM, Murphy CJ, Kwiatkowski NP, Zhang T, Cantley LC, Gray NS, Marto JA. A chemoproteomic strategy for direct and proteome-wide covalent inhibitor target-site identification. J Am Chem Soc 2018; in press.
Ficarro SB, Browne CM, Card JD, Alexander WM, Zhang T, Park E, Paganon SD, Seo HS, Lamberto I, Eck MJ, Buhrlage SJ, Gray NS, Marto JA. Leveraging novel fragmentation pathways for improved identification and selective detection of targets modified by covalent probes. Anal Chem 2016;88:12248-54.
Kwiatkowski N, Zhang T, Abraham B, Reddy J, Rahl P, Ficarro SB, Tesar B, McMillin D, Sanda T, Sim T, Kim ND, Look T, Mitsiades C, Brown J, Benes C, Marto JA, Young R, Gray N. Targeting transcriptional dependencies in cancer using a covalent cdk7 inhibitor. Nature 2014; 511:616-20.
Koleva RI, Ficarro SB, Radomska HS, Alfonso MC, Webber JT, Luckey CJ, Marcucci G, Tenen DG, Marto JA. C/ebpa and dek coordinately regulate myeloid differentiation. Blood 2012;119:4878-4888.
Hsu PP, Kang SA, Rameseder J, Zhang Y, Ottina KA, Lim D, Peterson TR, Gray NS, Yaffe MB, Marto JA, Sabatini DM. Identification of the mtor-regulated phosphoproteome and a new mechanism of feedback inhibition of pi3k/akt signaling. Science 2011;332:1317-22.