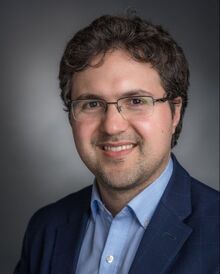 Assistant Professor of Radiology
Rashidian Laboratory
Dana-Farber Cancer Institute
Dana 728
450 Brookline Avenue
Boston, MA 02215
Tel: 857-215-5592
Email: Mohammad_Rashidian@dfci.harvard.edu
Website:
https://rashidianlab.dana-farber.org/
Lab Size: Between 5-10

Summary
Immunotherapy has revolutionized cancer treatment, but it is vital to develop non-invasive methods to evaluate and predict the effectiveness of therapy for individual patients. The advanced imaging techniques that we are developing are very promising for this purpose, but there is much more work to be done. In the next few years, by combining our expertise in molecular biology, chemical biology and immunology, we hope to advance this field.
Furthermore, we aim to better understand the underlying mechanisms of how the tumor microenvironment is shaped and is changed in response to cancer immunotherapies. The lab is focused to develop new and improved diagnostic, prognostic, and therapeutic tools to detect, diagnose, treat, and prevent cancer.

Publications
1.     Abousaway O, Rakhshandehroo T, Van den Abbeele AD, Kircher MF, Rashidian M. Noninvasive Imaging of Cancer Immunotherapy. Nanotheranostics. 2021; 5(1):90-112.
2.     Dongre A, Rashidian M, Eaton EN, Reinhardt F, Thiru P, Zagorulya M, Nepal S, Banaz T, Martner A, Spranger S, Weinberg RA. Direct and Indirect Regulators of Epithelial-Mesenchymal Transition (EMT)-mediated Immunosuppression in Breast Carcinomas. Cancer Discov. 2020 Dec 16.
3.     Priem B, van Leent MMT, Teunissen AJP, Sofias AM, Mourits VP, Willemsen L, Klein ED, Oosterwijk RS, Meerwaldt AE, Munitz J, Prévot G, Vera Verschuur A, Nauta SA, van Leeuwen EM, Fisher EL, de Jong KAM, Zhao Y, Toner YC, Soultanidis G, Calcagno C, Bomans PHH, Friedrich H, Sommerdijk N, Reiner T, Duivenvoorden R, Zupancic E, Di Martino JS, Kluza E, Rashidian M, Ploegh HL, Dijkhuizen RM, Hak S, Pérez-Medina C, Bravo-Cordero JJ, de Winther MPJ, Joosten LAB, van Elsas A, Fayad ZA, Rialdi A, Torre D, Guccione E, Ochando J, Netea MG, Griffioen AW, Mulder WJM. Trained Immunity-Promoting Nanobiologic Therapy Suppresses Tumor Growth and Potentiates Checkpoint Inhibition. Cell. 2020 Oct 29; 183(3):786-801.e19.
4.     Woodham AW, Zeigler SH, Zeyang EL, Kolifrath SC, Cheloha RW, Rashidian M, Chaparro RJ, Seidel RD, Garforth SJ, Dearling JL, Mesyngier M, Duddempudi PK, Packard AB, Almo SC, Ploegh HL. In vivo detection of antigen-specific CD8+ T cells by immuno-positron emission tomography. Nat Methods. 2020 10; 17(10):1025-1032.
5.     Mahmoudi H, Tavakolpour S, Nili A, Salehi Farid A, Daneshpazhooh M, Rashidian M. Treatment of pemphigus patients in the COVID-19 era: A specific focus on rituximab. Dermatol Ther. 2020 11; 33(6):e14188.